Student Travel
Gulf Coast offers our students many different travel opportunities so you will be able to explore destinations near and far. The cost of travel varies depending on the trip, but those in Student Life work hard to make sure you get the most cost-effective experiences. Trips are open to all students who are enrolled in at least six credit hours and have a 2.0 GPA. Registration is on a first come, first served basis.
INTRAMURAL TRAVEL
What is intramural travel? It is travel that has no "educational" benefit and are just for FUN. These trips include athletic activities such as a canoe trip on the Econfina river, a boat ride to Shell Island and visiting the Marianna Caverns. Additionally, we provide opportunities to attend various sporting events and theme parks.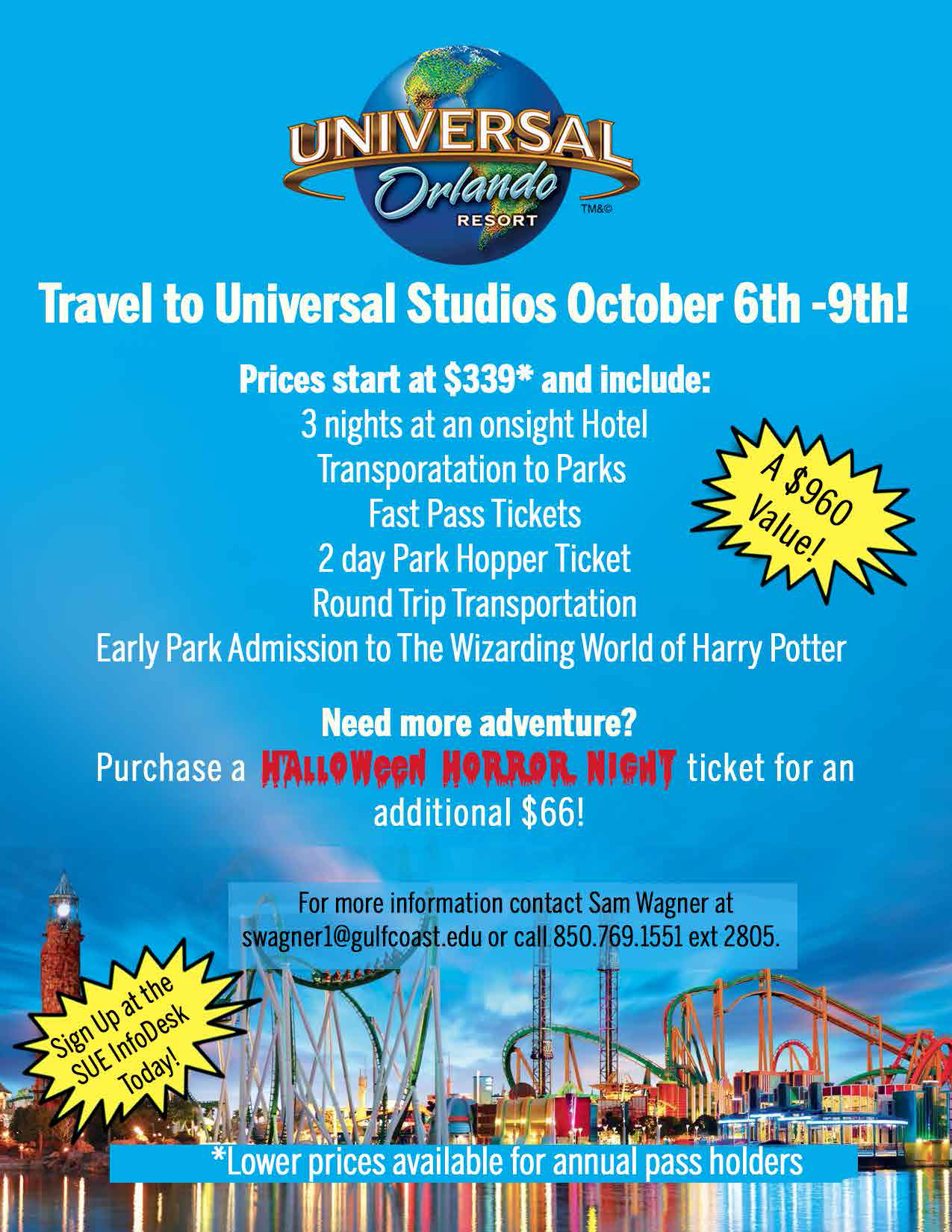 We have just launched our fourth annual trip for Fall 2016 to Universal Studios Orlando for their annual Halloween Horror Nights. The trip will be in October 6th-9th and includes transportation, 3 nights at an on-site hotel, 2 day park admission, Express Passes, early park entry for $399 (lower prices for annual pass holders). And for $66 more students can add Halloween Horror Night tickets). For more information or to sign up, please contact Samantha Wagner at 850.769.1551 ext. 2805.
If you have suggestions for an intramural trip, please contact the Student Event Planner at kporter@gulfcoast.edu.
---
SPRING BREAK TRAVEL
During spring break you will have the opportunity to get away for the week and travel farther away from home. This year we will be traveling to Washington D.C. but we are still working on the details and will update as soon as possible.
INTERNATIONAL TRAVEL
Have you always wanted to travel overseas? Every summer we offer international trips to places like Italy, France, Switzerland and Ireland.
The Summer 2017 trip is to ITALY & GREECE! You will spend 13 days traveling to cities such as Rome, Florence, Pompeii, Delphi, Athens and other Greek Isles. The trip includes round-trip airfare, hotel, ground transportation, a three night cruise, sightseeing tours and much more! You will visit iconic places including the Sistine Chapel, St. Peter's Basilica, the Colosseum, Roman Forum, Ruins of Pompeii, Delphi Site and Acropolis. There will also be a 24/7 tour guide fluent in English, Italian and Greek.
For more detailed information, including the trip itinerary, visit the Italy & Greece trip website or contact Lori Cannon.