STUDENT GOVERNMENT ASSOCIATION (SGA)
WHAT DOES SGA DO?
SGA offers you opportunities to engage in extra and co-curricular opportunities. This could be through community service activities such as volunteering at the Humane Society, Campus clean-up projects or helping with college-wide projects. SGA also promotes civic engagement targeted conferences, Roundtable lunches, participation in National Model Congress and various blood drives. Leadership conferences are offered each year that are free and open to all students!
SGA provides collaboration between the classroom and student life by working with faculty members on various events such as Movies for a Cause, which pairs a movie with a social or academic theme. SGA sponsors guest speakers that cover topics ranging from leadership skills and study tips to meditation.
Meetings are held every Tuesday at 12:45 p.m. Locations will vary so please check the College Events Calendar for more information.
SGA is not all work, we do fun stuff too! We have hosted free food events, drive-in movies, intramural sports, laser tag, Homecoming, Pie Day, Welcome Back Week, Grocery Bag Bingo, the student lounge, and much more!
Who is SGA?
SGA is made up of Gulf Coast students like you. Four students are elected by the previous year's student body to serve as President, Vice President, Parliamentarian, and Secretary. Students from other Gulf Coast clubs and organizations also serve as representatives and at-large members represent the general student body.
Officers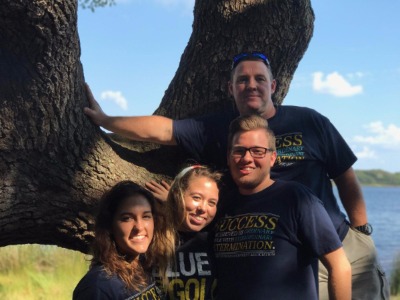 advisor
Ready to join SGA?
SGA speaks for the students directly to the College's administration and Board of Trustees. Joining SGA will give you an opportunity to have your voice heard. There are advisors ready to provide you with guidance and act as mentors. You will also be the first to know about upcoming events and activities like free movie nights, free food and other free goodies on campus.
SGA is open to all Gulf Coast students with a 2.0 GPA. If you're interested in joining, applications are available in the SGA office located just off of the cafeteria in the Robert L. McSpadden Student Union East Building, or you can click here for the application. For more information, contact the Coordinator of Student Leadership.
Excused absence
SGA members who miss a meeting or required event must complete an Excused Absence Form to Lori Cannon in the SGA office.
PURPOSE AND MISSION
The purpose and mission of the Student Government Association of Gulf Coast State College is to stimulate student involvement in all aspects of campus life. Using Student Activities Funding, the SGA fosters activities for/with clubs/organizations and empowers students in all aspects of campus governance. They are the official voice through which the opinions and concerns of the student body may be expressed. SGA also serves as liaison between the student body and College administration to ensure all procedures and practices within the organization are inclusive and non-discriminatory.
related Organizations
The American Student Government Association Logo
The American Student Government Association
The Florida College System Student Government Association Logo
The Florida College System Student Government Association
The Florida College System Activities Association Logo
The Florida College System Activities Association