Panama City Main Campus: CLOSED
North Bay Campus: CLOSED
Gulf/Franklin Campus: CLOSED
Tyndall Education Center: CLOSED

All instructional classes and activities are suspended at this time.

All online classes are suspended at this time.
We're working to get everything back up as quickly as possible. Check this site daily for updates.
---
updated: 10/19/2018
Dear Scholars,
During extremely trying times is when we find our true strength and this is, without a doubt, the most trying time we have faced at the college. It is the strength of our hearts that will provide us with the ability to overcome the current disaster and not merely survive, but prevail.
The college is committed to you and your future. We are working tirelessly to ensure that we re-open the college as quickly as possible. The Panama City Campus sustained major damage and we have brought on a national disaster recovery and property restoration company, Belfor, and given them full control of the campus. Belfor is working to get buildings ready for classes and facilities safe for our return. Several buildings have sustained minor damage and these are being prepared for classes as quickly as possible.
ALL CAMPUSES ARE CURRENTLY CLOSED AND SECURED WITH NO ACCESS until we are able to ensure that all facilities are safe. We apologize for not being able to send a student-wide email yet, but we are still operating without power and no Internet access. As such, we have no access to our student email system. Full power has not yet been restored to campus and this has hampered our efforts to communicate with you. However, the emergency text system is operable, as are most social media. The college's Facebook page also provides an enormous amount of storm-related information. Please utilize WKGC 90.7 FM for up-to-date information as well.
Rest assured that we are committed to re-opening as soon as possible, in order to resume the fall semester. Please take care of yourself and your families, and know that we will do everything we can to work through your situation.
We will honor our commitment to you to complete the semester and ensure your graduation and university transfer for the upcoming semesters.
As soon as we have power and Internet, we will communicate with you via the system as well as other social media outlets. Stay safe and keep the community in your prayers as we recover from this disaster.
John Holdnak, GCSC President
---
updated: 10/17/2018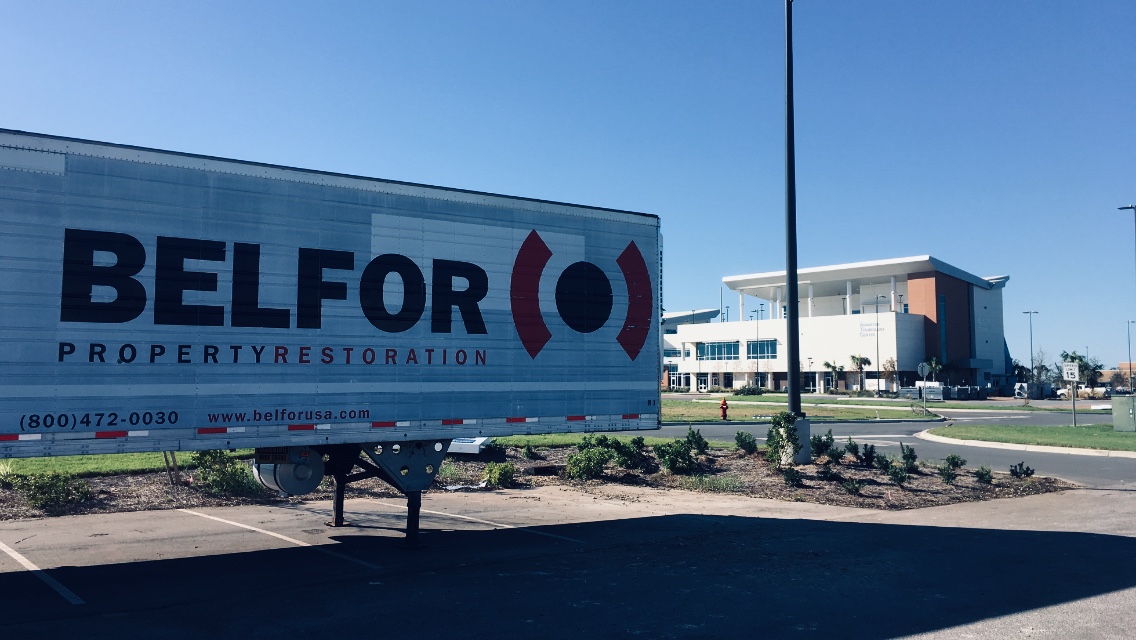 I hope this note finds you and your family safe and as secure as possible. Our community and our Gulf Coast family have suffered grevious harm, but we will persevere and we will do it by pulling together.
The college contracted with BELFOR Property Restoration before the storm even hit, and their representatives were on site shortly after the storm cleared the area. Their responsibility is to assess and repair the damage to college facilities. While damage to the Gulf/Franklin and North Bay campuses is fairly light, the Panama City campus sustained significant damage.
Though the damage is significant and touches every building to a greater or lesser degree, today Belfor had over 400 workers on campus making good progress in the removal of lots of storm debris that included a large number of downed trees, as well as a lot of broken glass, fiberglass insulation, and twisted metal. Workers continue to make structural and life/safety assessments of buildings, and have already started on the Gym/Wellness, Student Union East & West, Administration, Health Sciences, and the ATC.
The Belfor folks have also begun the process of drying out these buildings and the rest of the wet ones, temporarily waterproofing any exposed areas and missing roofs. Thank you for your continued support and patience while we work to bring the campus back to life. I know you are frustrated and anxious, wanting to come out and see what's going on where you work. In the next few days we should have enough information to begin our reopening/class restart plans. However, we cannot and will not reopen the campus until it is safe and healthy to do so! We will continue to provide updates as they become available.
Please be sure to tune in to WKGC 90.7 for regular storm related news, and look for additional messages from me for more reopening related news.
Don't worry about your courses or assignments at this time, your main concern should be about you, your family, and your neighbors.
Thanks again and be safe!
John Holdnak, President
Gulf Coast State College