Program Snapshot
Academic Credential
Associate in Arts (AA)
Average Time to Complete
2 yrs.
Academic Pathway
Business, Industry, Technology, Manufacturing
Advisor
Kim Allan
Assistant Professor, Business & Technology
850.769.1551, ext 4022
kallan@gulfcoast.edu

Academic Program Support Specialist
Jordan Hale
850.872.3838
jhale2@gulfcoast.edu

Visit the Business & Technology Website
ACCESS THE PROGRAM ROADMAP
Business Administration, AA
Do You Have a Passion for Business and Management?
Then a degree in Business Administration will give you the opportunity to pursue your passions. Business administration is a wide field that incorporates many types of management positions. You'll be using the management and operational skills you learn in this program to assist in the operation of businesses - from independent businesses to major corporations.
This transfer track will build a solid foundation that will prepare you to continue your studies in business administration at a four-year institution. We offer the necessary prerequisites for the state of Florida university baccalaureate programs.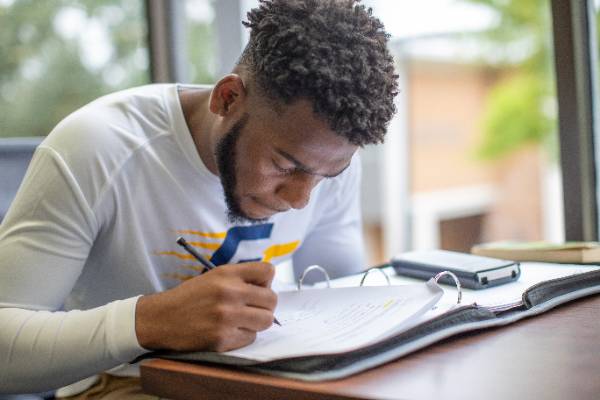 Business Administration Program Course Requirements
ENC1101, English I
ENC1102, English II
Visual and Performing Arts
Philosophy/Religion
Literature
STA2023, Statistics
MAC2233, Calculus for Business
Physical Science
Biological Science
ECO2013, Economics, Macro
History
Government
CGS1570, Microcomputer Applications.
ACG2001, Financial Accounting I
ACG2011, Financial Accounting II

ECO2023, Economics, Micro
ACG2071, Managerial Accounting
Elective
What can you do with a Business Administration Degree?
In this field, people find careers as:
Chief Executive
Purchasing Manager
Compliance Managers
Cost Estimators
Management Analysis
Gulf Coast alumni of this program have continued their education at:
University of Florida
Florida State University - Panama City
University of Central Florida
Are you ready to Get Started?
Apply for Financial Aid & Scholarships
There are many options available to help you pay for college. Find out more about scholarships and financial aid at Gulf Coast State College.