Program Snapshot
Academic Credential
Associate in Arts (AA)
Average Time to Complete
2 yrs.
Academic Pathway
Science, Technology, Engineering & Math
Advisor
Terri Bunch
Assistant Professor
850.769.1551 ext. 5148
tbunch@gulfcoast.edu

Senior Administrative Assistant
Kathy Bleday
850.872.3851
kbleday@gulfcoast.edu

Track your progress Degree Audit
Map out your courses Degree Plan
Dental Medicine, AA
Take the First Step Toward a Rewarding Career!
Would you like to help people be healthier and more attractive? Have you considered being a dentist?
There are many reasons why you should:
Dentists can improve lives by improving their patient's oral and general health. Dentists are respected professionals within the health care community and hold leadership roles in this community.
There are many clinical, research, and academic opportunities in the dental profession.
Graduates of dental schools have career options after receiving a dental degree, such as entering practice immediately or pursuing residency training in general dentistry or in one of nine recognized dental specialties.
To learn more about Dentistry and the admission requirements for all U.S. and Canadian Dental Schools, acquire the ADEA Official Guide to Dental Schools.
Dental Medicine Course Requirements
Visual and Performing Arts
Philosophy/Religion
Literature
Behavioral Sciences
History
Government
Biology Courses
Chemistry Courses
Organic Chemistry Courses
Electives
A complete list of courses with descriptions can be found in the Catalog
What can you do with a Dental Medicine AA Degree?
In this field, people find careers as:
Dental Assistant
Dental Laboratory Technician
Dental Hygienist
Dentist
Dental Anesthesiology
Periodontics
Gulf Coast alumni of this program have continued their education at:
Lake Erie College of Osteopathic Medicine School of Dental Medicine
Nova Southeastern University College of Dental Medicine
University of Florida College of Dentistry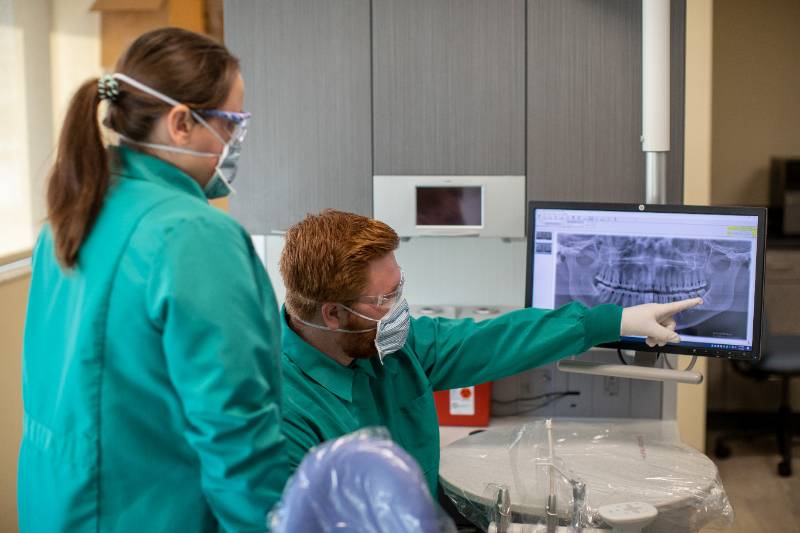 Are you ready to Get Started?
Apply for Financial Aid & Scholarships
There are many options available to help you pay for college. Find out more about scholarships and financial aid at Gulf Coast State College.