GO THE EXTRA SMILE :)
Gulf Coast State College has a history of committing volunteer time in our service district of Bay, Gulf, and Franklin Counties. In August 2016, the College introduced the Commodores Care campaign to expand our volunteerism efforts. Gulf Coast is committed to linking our employees and students to meaningful volunteer opportunities that support community-driven change with the added benefit of personal and professional development. As a volunteer, you can make a difference in our community and in the lives of those around you.
As of May 5, 2018, less than two years since the inception of Commodores Care, GCSC employees and students have logged 12,777 volunteer hours and donated cash and other items totaling $86,594.
This has an impact on our community of $313,462!

UPCOMING OPPORTUNITIES
BAY EDUCATION FOUNDATION TAKE STOCK IN CHILDREN

Make a commitment to be a mentor to a high school student and help prepare him/her to be successful. Visit their website for more information.

COMMUNITY BREAKFAST - EVERY SATURDAY MORNING

Every Saturday morning, First United Methodist Church holds a community breakfast at their Trinity Center located on the corner of Bonita and East 4th Street. In addition to serving breakfast, the Center maintains a clothes closet, provides a shower trailer and haircuts, and a computer lab. Come anytime between 6:30 am-8:00 am. Typically, you can leave between 9:00-9:30 am and you will have gotten your day off to a good start by helping others.

OAKLAND TERRACE SCHOOL FOR THE ARTS

Commodores Care has adopted a local Title 1 school for the 2017-18 academic year. Oakland Terrace School for the Arts has the 2nd highest poverty rate in the district, which should lend perspective to the lifestyle of the students and their families. The school provides 100% free and reduced lunch to their students. This means that all students eat breakfast and lunch for free, which is based on household income.

MENTORING A STUDENT (# 1 priority)

Do you have 30 minutes once or twice a month to encourage and support a student at Oakland Terrace School for the Arts? The children have a 30-minute lunch anywhere between 10:20-12:30. If this time frame does not work with your schedule, the school can work around that. You may be paired with a student that has an absent or incarcerated parent, is placed in foster care or lives with a relative, has temporary living arrangements, struggles academically or behaviorally, or has difficulty making friends. Mentoring allows you to build a relationship where you can provide a sense of nurture, stability and support. You may use your time with them to discuss their interests, family life and success at school. They may bring class work to work on or good grades to show you. Your impact will be immeasurable. To receive a volunteer application or for more information on mentoring at Oakland Terrace School, please contact Kimberly Kirkman at kirkmkl@bay.k12.fl.us.

AFTER SCHOOL SNACKS

Classroom snacks that teachers could use including Individually wrapped crackers, goldfish, granola bars, pop tarts, fruit snacks, boxes of cereal, marshmallows, animal crackers, bags of small candies like M & M's or Skittles, bottled water, juice boxes, etc.

FOOD PANTRY

Items needed include any non-perishable can or boxed food, cereal, macaroni and cheese, crackers, bottled water, juice, toiletries, etc.

To drop off items or for additional information, please contact Laura Green or Nancy Gibson.

BOX TOPS FOR EDUCATION


Oakland Terrace School is collecting Box Tops for Education. The program was created by General Mills in 1996 to help support education and benefit America's schools. As of today, America's schools have earned more than $868 million, and you can find Box Tops on hundreds of products throughout the grocery store and online. Each Box Top is worth 10 cents. See the complete list of participating products.

To drop off Box Tops or for additional information, please contact Laura Green or Nancy Gibson.
OAKLAND terrace School for the arts food panTRY Drive
Commodores Care adopted a local Title 1 school for 2018. Oakland Terrace School for the Arts has the 2nd highest poverty rate in the district, and they provide 100% free and reduced lunch to their students. In January 2018, Commodores Care announced a campaign asking GCSC employees and students to help make a significant donation to the school's Food Pantry. Gulf Coast employees and students brought in bags of food and/or made cash contributions to help fulfill the needs of these children. With a deadline of March 16, Commodores Care received more than 1,250.00 in food and cash donations. The goal was to have the food delivered to Oakland Terrace School before the students went on Spring Break. As Nancy Gibson and Laura Green pulled up to the school with both of their SUV's loaded with food and drinks, the children ran out to see what was happening. As soon as they saw all the food, their eyes widened and they immediately began to help stack the food onto carts. It was a privilege to see the excitement and gratitude as they raced back and forth to unload more items, knowing that they wouldn't go hungry during the week of Spring Break.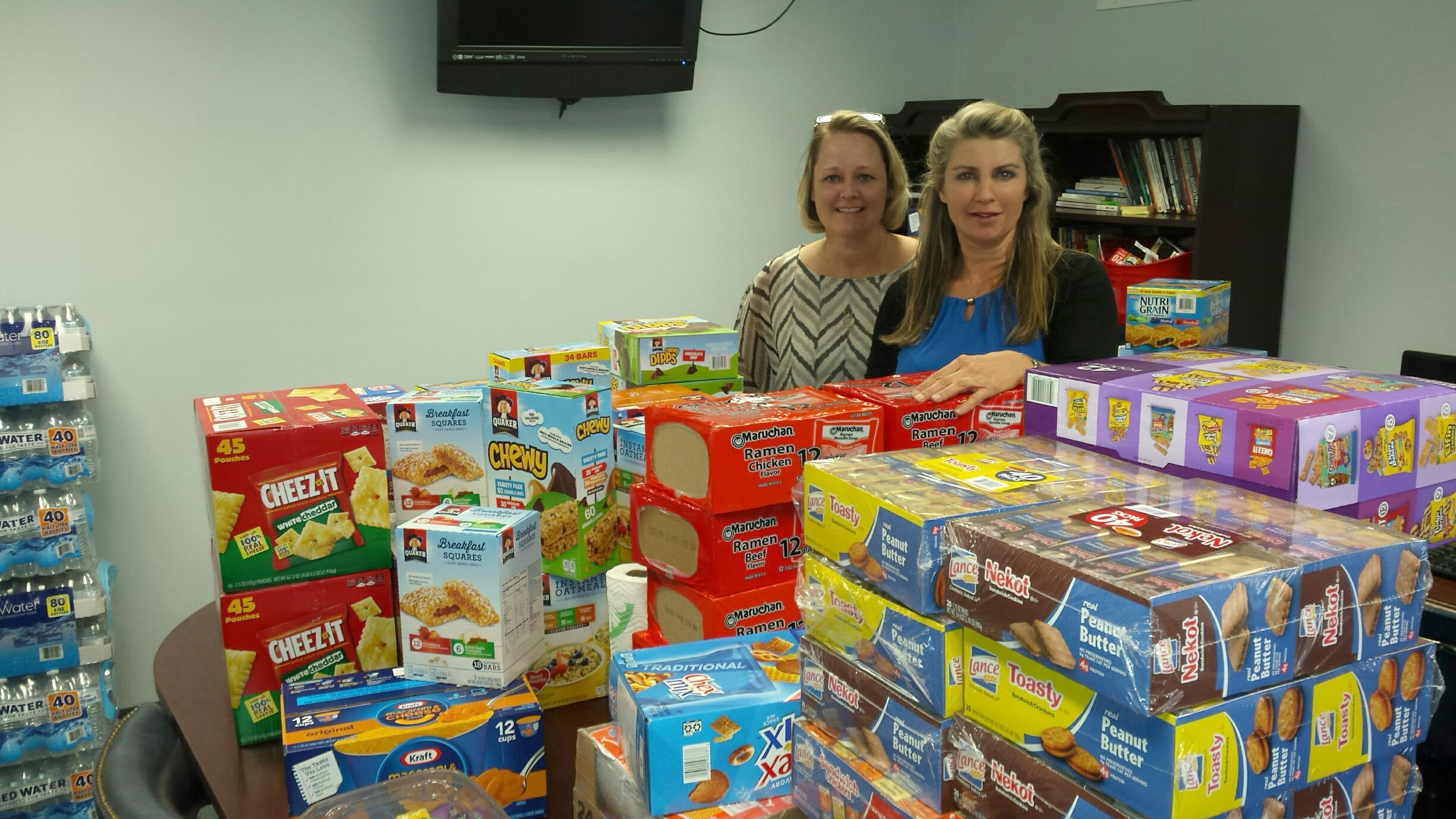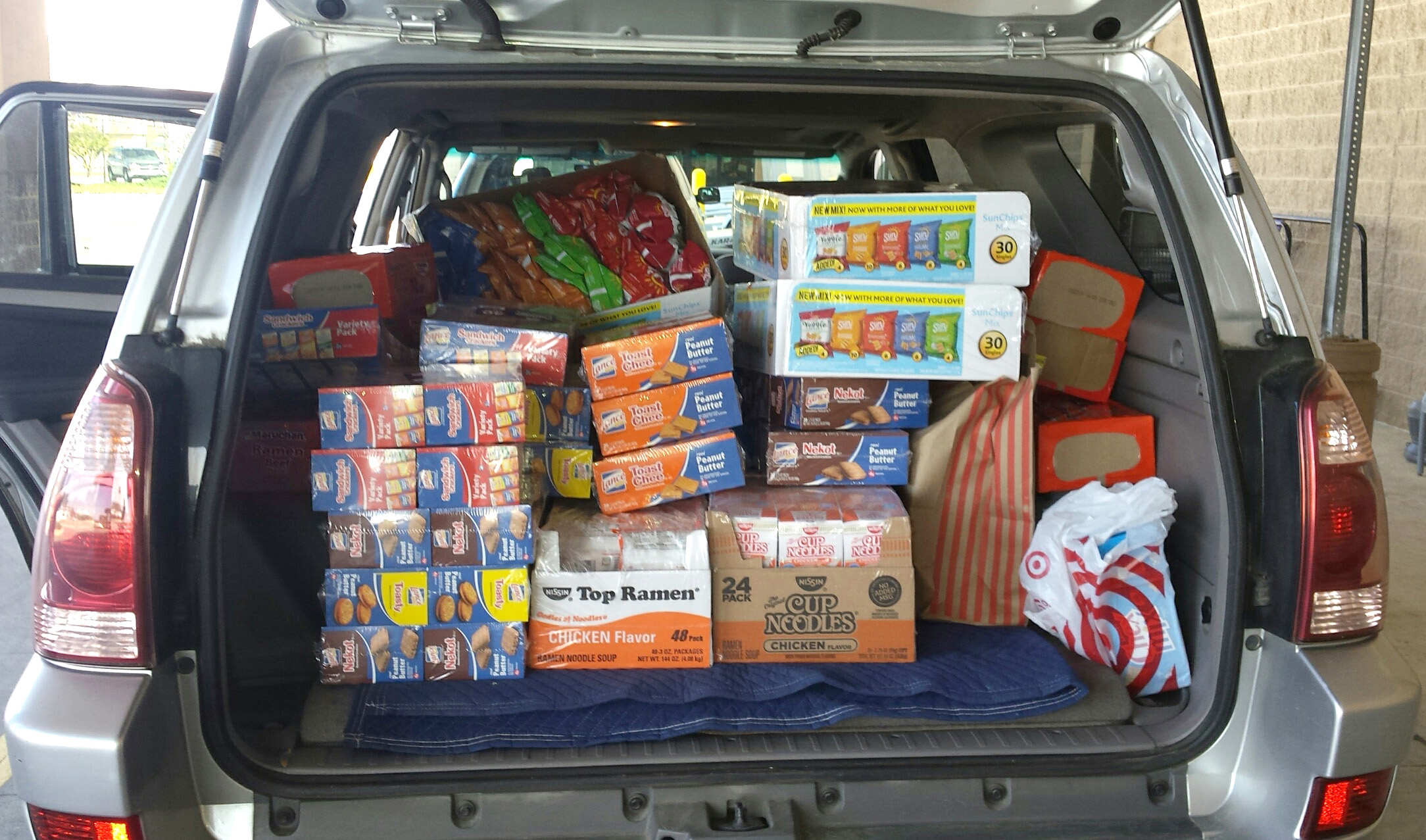 Cherry Street Elementary School BackPack Project
Gulf Coast employees filled grocery bags full of food for children at Cherry Street Elementary to take home over the holiday break. The grocery bags were delivered to students in combination with a pizza/holiday party provided by Gulf Coast employees as well. Judi Gannaway from Enrollment Services coordinated these efforts. Lots of time, hard work, and donations from our community were needed to provide this event. As each group of kids entered the cafeteria, the sense of wonderment and delight was immediately evident in their eyes and their smiles.
Making Strides Against Breast Cancer 5K Walk
Gulf Coast employees and students participated in the Making Strides Against Breast Cancer 5K Walk on Saturday, October 21 at Aaron Bessant Park in Panama City Beach. The team raised $750.00 through online donations.
March of Dimes
Gulf Coast Nursing Student Association and Commodores Care participated in the March of Dimes March for Babies Walk held on Saturday, May 6 in downtown Panama City.
HAVE MORE QUESTIONS?
Melissa Bois
850-872-3804
mbois@gulfcoast.edu