commodores go the extra smile :)
Gulf Coast State College has a history of committing volunteer time in our service district of Bay, Gulf, and Franklin Counties. In August 2016, the College introduced the Commodores Care campaign to expand our volunteerism efforts. Gulf Coast is committed to linking our employees and students to meaningful volunteer opportunities that support community-driven change with the added benefit of personal and professional development. As a volunteer, you can make a difference in our community and in the lives of those around you.
volunteering to make our communities better

February 2020, Gulf Coast State College 2nd semester nursing students volunteered for Panama City's 6th Night to Shine. Nursing students volunteer in order to meet their service learning requirements for the semester.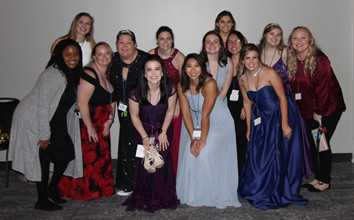 December 2019, Commodores Care participated in a campus-wide book drive that brought in books for students in Bay District Schools.
66 Pre-K

book

s to Arnold High School's VPK program
73 Elementary

book

s to Lucille Moore
127 Middle and High School

book

s to Rutherford
ongoing OPPORTUNITIES
HAVE MORE QUESTIONS?
Patrick Brennan, Co-Chair

(850)276-0492

Connie Head, Co-Chair

(850)872-3893