Surgical Technologist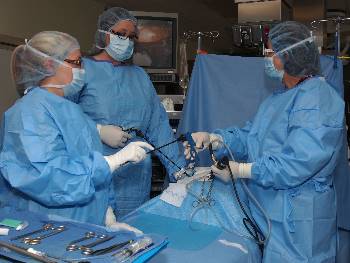 Surgical technologists, also called operating room technicians, assist in surgical operations. They prepare operating rooms, arrange equipment, and help doctors during surgeries.
The Surgical Technologist is a professional surgical scrub who assists in surgical operations under the supervision of the surgeon. Before an operation, they setup the instruments and equipment. They assemble both sterile and nonsterile equipment as well as adjusting it to make sure it works properly.
During the surgical procedure, they pass instruments to the surgeon, anticipate the needs of the surgeon, and react quickly to emergencies by providing the appropriate supplies or equipment.
Surgical Technologists can perform the roles of surgical technologist in the scrub role; Assistant Circulator (identify, position, and prepare the patient for surgery), or second assistant (maintain retraction, cut suture, or hold clamps applied by the surgeon).
With further training they can become first assistants. The professional association is the Association of Surgical Technologists (AST). This program is available at Gulf Coast State College .
Education
Surgical technologists typically need a postsecondary nondegree award or an associate's degree. Most programs last from 9 to 24 months with either a certificate, diploma, or associate degree. To become a certified surgical technologist (CST) by the National Board of Surgical Technologist and Surgical Assistants (NBSTSA), the program must be accredited by the Commission on Accreditation of Allied Health Education Programs (CAAHEP). Gulf Coast State College offers a CAAHEP approved AS Degree in Surgical Services with a Surgical Technology option lasting approximately 18 months with prerequisites. The program provides classroom education, supervised lab and clinical training. High school graduation is required for entry. Recommended preparation courses include health, biology, microbiology, chemistry, and mathematics.
Working Conditions
Work in clean, well-lighted, cool environments. They must stand for long periods and remain alert. At times, they may be exposed to communicable diseases and unpleasant sights, odors, and materials. Most work a regular 40 hour week and they may be on call or work nights, weekends, and holidays on a rotating basis. Part time is usually available and some surgery centers do not have call, night, or weekend requirements.
Employment
Surgical technologists held about 112,100 jobs in 2018. About 72 percent of jobs for surgical technologists were in hospitals, mainly in operating and delivery rooms. Other jobs were in offices of physicians or dentists who perform outpatient surgery and in outpatient care centers, including ambulatory surgical centers. A few technologists, known as private scrubs, are employed directly by surgeons who have special surgical teams, like those for liver transplants. Other potential opportunities include working in sterile supply areas, education, inventory control, sales representative, and management. Find our more information.
Earnings
Median annual earnings of wage-and-salary surgical technologists where Certification can be beneficial in finding a job. A small number of states regulate surgical technologists. The median annual wage for surgical technologists was $47,300 in May 2016. The lowest 10 percent earned less than $37,870, and the highest 10 percent earned more than $69,170. Salaries vary according to region and may include a base salary plus call or overtime. For up to date statistics go to the Department of Labor.
Job Outlook
According to the Occupational Outlook Handbook for 2018-2028 by the U.S. Department of Labor, employment of surgical technologists is projected to grow 9 percent from 2018 to 2028, faster than the average for all occupations about 9,700 positions. Advances in medical technology have made surgery safer, and more operations are being done to treat a variety of illnesses and injuries. Job Opportunities are expected to be good. As the population ages, the number of surgeries is expected to increase. Also the increase in technological advances will permit an increasing number of new surgical procedures to be performed. Hospitals will continue to be the primary employer, however, much faster employment growth is expected in offices of physicians and outpatient centers.